I have something HUGELY exciting to share with you guys!
Descended by Blood has now sold OVER 10,000 copies!!!
That's right! This was an important milestone for me. I've always felt like 10,000 copies sold was a point in sales indicating that an author "made it". Weird, I know. And to reach this level in just 6 months has blown my mind!!
I couldn't have done it without you guys: the bloggers, the authors who've supported me and read my book, the retweeters on Twitter, and THE READERS! Thank you sooo much! I can't express to you how lucky I feel. I swear I have the BEST readers in the whole wide world. An author couldn't ask for better readers than the ones that have found me! And since my "thank you" still feels EPICLY lacking, I figured I'd give you guys stuff!
So here's the deal:
The giveaway is international! I don't care if you live in Zimbabwe! You win the prize, I'll pay the $50+ to ship it to you! Because I love you! All of you!
Now, there will be 3 winners.
Winner #1 will get their choice of a SIGNED Paperback copy of Descended by Blood, a SIGNED book mark, a nail polish matching the book's cover AND a paperback copy of Born at Midnight by CC Hunter
OR
a Descended by Blood Kindle skin (keyboard version) or Nook (original version), a SIGNED book mark, a nail polish matching the skin AND a paperback copy of Born at Midnight by CC Hunter!!
*Not shown Born At Midnight by CC Hunter, which is included
Winner #2 & #3
will get their choice of a skin (see above for options available) or a SIGNED paperback copy of Descended by Blood, and a signed bookmark!!
I would love nothing more than to also reward you with the release of Enemy Within, but it's just not ready yet. In the meantime, I will be offering the readers who've subscribed to my Newsletter some exclusive content. Ya know? Nothing BIG. Just a letter from Jaren AND Mirko this month!!!! ;) Also, subscribers will be the first to know of Enemy Within's release date once it has one, and they'll get the first peeks of Chapter 1 when it's ready! Subscribe via the sidebar or
here
!
Code to grab the button for your blog & get extra entry points!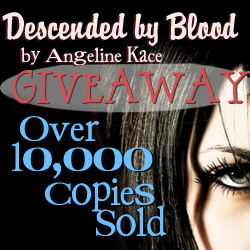 Again, THANK YOU all. Much love from this happy, ecstatic, grateful author!
And shout out to the FABULOUS #ZombieQueen, Blogger extraordinaire, Genius designer
The Bookish Brunette
for creating the beautiful giveaway banner and the button! Love you forever chick! ♥
Now get your giveaway entering on!! Good luck! Love you!